Shop.org is always one of my favorite conferences to attend. True, its in Las Vegas so that is great and you can't believe how wild it was sucks. I'm saying that because my wife reads my blog its true, nothing going on in Vegas these days. Check out some of my photos to see what WAS happening…
Oh, and just because I loved it, check out the best schwag that was given out at the expo!
But other than being stuck in Vegas for a few days, the conference brings together the leading minds in e-commerce. The best of the best gather for this conference to talk about new trends, innovation, best practices, etc., all revolved around the world of e-commerce.Two presentations stand out in my mind. The first was the keynote by Terry J. Lundgren, President and CEO of Macy's. Terry has done an amazing job of leveraging all marketing channels to strengthen the Macy's brand. His presentation was very impressive.
I have to admit though, I did give Terry a bit of a hard time about a comment he made. I did it naturally through Twitter, saying,

He made that comment when asked if he is on Twitter, and he said he can't see how people are on Twitter, must be a lot of people that have a ton of free time. The lady interviewing him laughed in agreement. Amazing to me that this kind of feeling is still out there in high level positions at companies like Macy's. I don't blame him for feeling this way because the media crams Twitter in everyone's face so everyone has an opinion but rarely have people tried it…But I won't go on a huge diatribe about my thoughts and feelings about Twitter-haters, but instead I'll turn to the next presentation that focused exclusively on social media…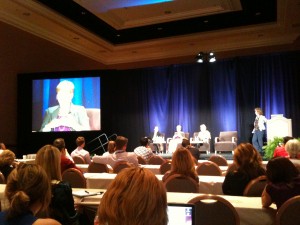 The second presentation I found to be very interesting was entitled, "Twitter and Social Media All-Stars". Go figure that would be one that stuck out to me
Truthfully though, I'm much more of a social skeptic when I hear about brands that have been "successful" in social. So I was eager to hear what Best Buy (Tracy Benson), Drugstore.com (Alison Jeske) and 1-800-flowers.com (Kevin Ranford) had to say.
The panel, ahead of this presentation, had come up with these guiding principles for being a social media all-star:
* Fail First!
* Plan with purpose
* Organize alignment
* Engage in & add value to conversations
* Integrate and connect
* Monitor and apply feedback
* Expect the unexpected
Some notes on what the brands were saying…
1-800-flowers.com
* First sought to converse and learn from fans, figuring out what they want and then they used that feedback to create their goals.
* Scaled back their Facebook messaging to a few times a week after finding that their fans felt they were overly reaching out to them.
Drugstore.com
* Goals came organically, started by listening to what people were saying, what their competitors were doing and strived to keep their social strategy tied tightly with their culture.
* Started small and organized for growth. And they defined a purpose for each of their efforts. Today they have 6 twitter accounts.
* Twitter is ripe for deals and coupons; Facebook not so much.
* CEO of Drugstore.com said, "Social doesn't have to drive commerce to be important."
Best Buy
* They are in a unique place because they sell the products that enable social media. To them social is not about campaigns or channels to execute, but more as a behavior. Then they participate with and create conversations and allow people to express themselves.
* Social is a customer service channel (TwelpForce), PR channel, loyalty building channel, networking channel, thought leadership channel, customer innovation channel, and new product development channel.
* Twelpforce became the vehicle to expose Best Buy's customer service channel to their customers.
* The struggle with the challenge of having their social be very viral and readily accepted by their customers, and they are growing so fast, that they don't have the organizational structure set up.
* Social exists cross-functionally at Best Buy, not in one individual department.
* After seeing that they had social spaces all over the web (multiple Twitter accounts, Facebook pages, etc.), learned from this what to ask in which network. For instance, in Facebook the most important thing was for their customers to be heard.
* Use their API's to pull content into their Facebook page, allowing people to shop there.
Each of these companies said that they have been focused on social for the last 1.5 years, which I also thought was interesting considering how they each seem to be at different stages of social development, but all are doing a great job.